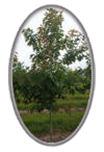 Fastest growing Oak.
Great for landscaping or as a street tree.
Round in shape.
Glossy dark green foliage in spring, turning reddish brown in the fall.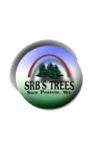 A large shade tree.

Cross between English Oak and Bur Oak.

Pyramidal in shape.

Deep green foliage.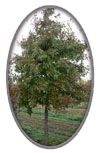 Conical when young, maturing to broad oval.
Glossy green foliage that turns red in the fall.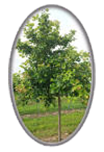 Excellent in both wet and upland soils.
Leaves are less deeply incised then white oak
Good transplant success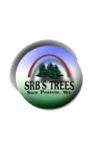 Dark green foliage changing to yellow brown in fall.

Upright, oval shape.

Tolerant of a wide range of soils types, wet and dry.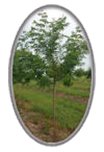 Strong sturdy trunk and shapely crown.
Great for light shade.
Dark green foliage that turns golden-yellow in the fall.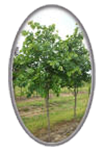 Beautiful shade tree.
Strong pyramid-shaped form.
Fragrant yellow flowers in early summer.
Great shade / low maintenance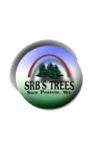 Symmetrical tree with a broad pyramidal shape.

Dark green leaves are silvery underneath.

Very fragrant, yellowish white flowers bloom in June and July.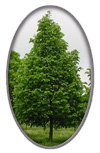 Is a strong grower.

Great as a street tree.

Oval in shape.

Deep green foliage in spring, turning yellow in the fall.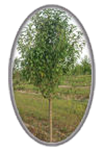 A very fragrant crab.
Rounded in shape.
White flower with bright green, shiny foliage in spring.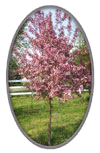 Upright branches, rounded shape crown.
Purple foliage that turns reddish-green in the fall.
Flowers bright pinkish red.
Fruit dark red 3/8″ – 1/2″.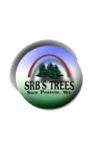 White-flowering crab with dark green fall foliage.

Upright, pyramidal shape.

Cherry red fruit shrivels and darkens.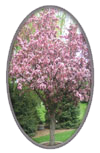 Upright at youth, rounded shape when mature.
Glossy dark green foliage.
White flowers.
Fruit 3/8″ attractive red persistent.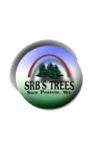 Purple foliage changing to orange-red.

Upright, spreading.

Good resistance to fireblight.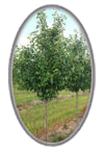 Dense white flowering in early spring and purple fall color
Attractive upright oval form and glossy green leaves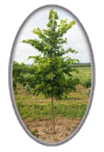 Moderate to rapid growth
Bright green foliage that turns to a soft yellow in the fall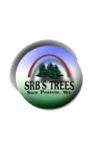 Great as a shade tree.

Deep green foliage in spring, turning rusty-red tint in the fall.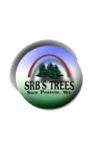 One of the hardiest and most beautiful of all the Willows.

Great as a Shade tree.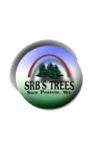 Rich green foliage changing to Red-purple.

Upright pyramidal shape.

High level of tolerance to Dutch elm disease.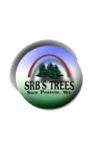 Is a vigorous grower.

Columnar in shape.

Deep green foliage with a silvery underside with brilliant red berries.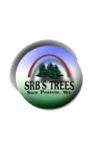 Glossy green foliage with yellow fall color.

Fast-growing, vigorous, and easily established.

Excellent resistance to Dutch elm disease.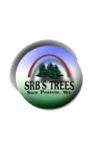 Very hardy ornamental tree.

Early green leaves becoming maroon in late spring.

The sweet purplish red fruit in summer is an excellent bird food.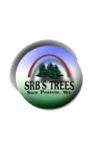 White blossoms in spring, followed by showy, sweet purplish-black fruit.

Heavily branched, the tree has an interesting spreading branch pattern.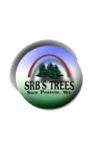 Dark green foliage.

Compact oval shape.

Large creamy white flower clusters in early July.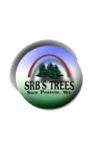 Oval shaped dark yellowish foliage changing to yellow in fall.

Pyramidal shape with branches upright and spreading.

Best in slightly acid soil that is moist, cool and fertile.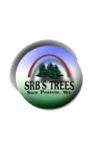 Tan to creamy barked birch.

Pyramidal crown.

Dark green, diamond-shaped foliage that turns yellow in the fall.
Sales Managers
Mark Srb


(608) 444-4163
Joe Srb


(608) 698-3376
Nursery Managers
Brian Srb


(608) 444-1321
Jamie Srb


(608) 444-3834
2 Locations: 
2720 Egre Rd

Sun Prairie,
WI 53590
---
6402 Loftus Road

Deforest,
WI 53532
Nursery Hours by Appointment only